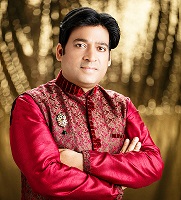 AGA Indian Music proudly Presents Kumar Raj Gandharva ,the torchbearer of Indian devotional and classical singing, Live In Concert. Be ready to experience an unforgettable evening with the mesmerizing and soulful world renowned classical singer Kumar Raj Gandharva in his United States Tour 2017. On this tour, Kumar Raj Gandharva will be accompanied by many brilliant musicians from all around the world. Furthermore, Kumar ji will be EXCLUSIVELY RELEASING his upcoming album KRISHNA, The Ultimate on September 9th, 2017 at Adelphi PAC for his New York fans.
Kumar ji has been honored with several Awards including the "Kumar Gandharava" Award and "Bhajan Samrat" Award. Recently, Kumar Raj Gandharva ji was crowned as Sufi Maestro, by the International Association of Sufism.
This is not an Adelphi event.  Tickets are sold through another agent.  
Click here to purchase tickets.